"Al Qaysar Olaza, 2nd Floor - Office 202, Fyhais, Jo "
Amman
Jordan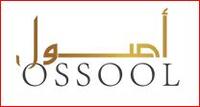 Ossool For Assets Management Technology
Details
Number of employees
2 - 9
Client size
Midmarket ($10M - $1B)
Overview
Ossool with its technology partners can provide a cost-effective solution to improve big organizations' efficiency through asset inventory management using RFID technology; one of today's most potential deployment technolog...Read more
Ossool with its technology partners can provide a cost-effective solution to improve big organizations' efficiency through asset inventory management using RFID technology; one of today's most potential deployment technologies. Big organizations such as hotels, hospitals and those occupying large building are in need of the following services in order to have better control of their assets and their book and actual values:
• Consulting & Management: Policy development, asset risk management, valuation, and condition evaluation
• Baseline Asset: Inventory, Asset Verification Plan, Geographical Location. Coverage Plan, Physical Asset identification, Asset reconciliation with existing FAR , Update Fixed Asset Register (FAR)
• Outsourcing FAR Maintenance: Recording newly acquired assets, tagging, deleting disposed assets, and conducting periodical physical inventory
All these services and more are offered by Ossool.

Read less
Most Popular Company Categories